Welcome
Do you feel you lack health and safety awareness? Is your business taking a down turn because of injured workers? Do you want to impress in interviews? - We have the answer!
For a one off payment of ONLY £14.95 (+vat) per title you will get:
An online, interactive, multimedia rich training course.
Useful, clear summary pages.
A fully interactive test.
A downloadable certificate of competence.
24/7 access, with the ability to complete training in more than one session.
Our courses are NOT simply PowerPoint presentations.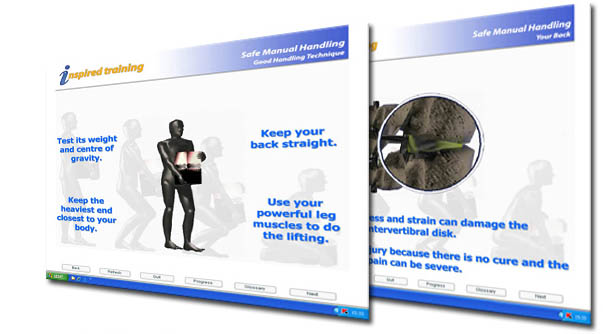 Pay As You Go
Enables employers to meet their statutory obligations for health and safety training
Reduces health & safety training costs
Provides proof of health and safety training
Training can be completed online from work, a hotel or home
Continuity in H&S training at all times across multiple sites
Always up to date
Reduces chances of costly litigation
Can be used as induction or refresher training
Reduces absenteeism levels
Improves productivity and staff morale
Reduces company healthcare costs
Reduces insurance premiums and compensation claims

In today's world many ignore health, safety and environmental management. However, health, safety and environmental management are a vital pre-requisite to any successful business to ensure the company runs smoothly as well as efficiently. Health and safety training helps teach your employees what is expected of them, how to identify work risk situations as well as how to deal with safety issues correctly.
Each health and safety training course will enable employers, the self employed and any individual meet their statutory obligations for health and safety training. Our online health and safety training courses will help develop a health and safety culture, assist in personal development, improve professional involvement in decision making and ensure that safe working practices become standard in all workplaces.
Inspired Training is a simple, flexible health & safety online training system which you can undertake when it is convenient to you. Our 'pay as you go' e-learning courses are available any time to buy online with no paperwork, no contracts and no advanced bookings. Once you buy a training aid, you are able to start learning instantly and may continue to do so at your own pace, fitting training into your working day. For a one off payment of under £15 per course, our multimedia rich health and safety training is very cost effective.
To keep our online training courses accessible to all students, each module is carefully designed to be clear and time efficient. All safety titles are easy to navigate, provide in-depth understanding and are simple to comprehend. Our cheap, up to date online training is supported by videos, diagrams, pictures as well as audio. There are also useful summary pages followed by an interactive self test. On successful completion of the assessment, you will receive a certificate which is available to print as proof of competency to your insurer, employer or HSE.
Our e-training has proved to be a success within many quality conscious organisations worldwide and we hope that you will soon join our long list of content, highly valued customers.
Thank you for your interest in our products - remember, do not learn safety by accident.